When you know a city so well it's great to stumble across a little gem that for one reason or another has remained unknown to you. One such spot is Pearse Square Park.
Located at the lower end of Pearse Street as you approach Grand Canal it is surrounded on three sides by Georgian terraced houses I have found out that it was built in 1839 and was then called Queen's Square after Queen Victoria. It may have been a private square initially but was opened to the public in 1889. The square was renamed Pearse Square in 1926 but fell into disrepair, described in 1939 as "a wasteland." It is now owned by Dublin City Council who bought it in 1996 for £1, 450, refurbishing it and reopening it in 1998. A bronze sculpture titled "Harmony" by Sandra Bell was installed in the centre.
It is hard to imagine as one walks down Pearse Street that all of this area is built on land reclaimed and drained in the eighteenth century after the Liffey was narrowed by walls and a quay being built. A swanky area in its time, with the nearby Theatre Royal drawing actors who stayed in the square when in Dublin shows.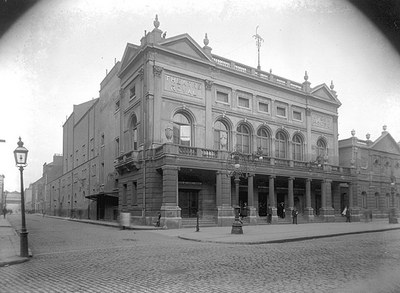 Theatre Royal
The layout we see today is different from the original square, the details of which can be read in this article from the UCD archaelogy department.
http://www.ucd.ie/archaeology/documentstore/hc_reports/lod/Queens_Square_Final.pdf
The other squares in Dublin are; (Georgian) Fitzwilliam Square, Merrion Square, Mount Pleasant Square in Ranelagh, Mountjoy Square and Parnell Square. Victorian squares are Dartmouth Square near Ranelagh and Kenilworth Square in Rathgar. Other squares are Belgrave Square in Rathmines, College Green, Eaton Square in Rathgar, Leinster Square in Rathmines, Ormond Square in Smithfields, Wilton Place and St. Stephen's Green.